Medical Agency File Handler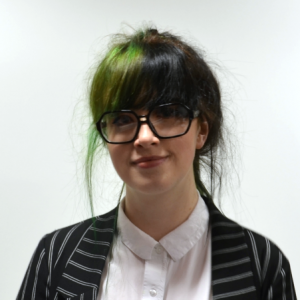 Jay started at Ontime Reports after graduating from The University of Chester with a Bachelor of Arts Honours Degree in Graphic Design.
Though she has a natural love for the arts, she has found comfort in her job at the company by helping the team and her clients.
Along with her own case load, Jay helps with ensuring all the medical records that are emailed to us are distributed onto client files in a timely manner.
She has also used her Graphic Design background to produce work for the company, such as making posters for the Halloween Bake Sale in 2019 and designing 'pick-me-ups' to pass around Ontime Reports and Express Solicitors during Mental Health Awareness Week.
Jay's love for books has also introduced a Book Corner in the office, allowing the team to bring in any books they may have at home, and be able to find a new read from a fellow colleague.
---
Jay also has a career in Graphic Design outside of the office; taking on commission work from clients for any design work, such as logos, promotional designs and handmade gifts. She has also started to make her own jewellery, and is currently in the process of setting up an online store to sell these.
This means that Jay has an understanding in building up a professional profile, and knowing the importance of client care and deadlines. She is able to bring these skills into the office to deal with her urgent work as a priority, and ensuring she does her best to push cases forward to the best of her ability.