Medical Agency File Handler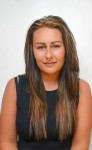 Carly Ablott joined the Ontime team in 2016 having being promoted from our sister company Express Solicitors' where she worked for 1 year prior. Carly was delighted to be promoted and ready for a new challenge.
Carly currently works within the RTA and Clinical negligence Ontime teams. Carly finds this role varied and interesting as both departments are so different, therefore no two days are the same.
With her knowledge and experience of both Express Solicitors and Ontime Reports, Carly prides herself on providing excellent client care.
This was reflected when she undertook the responsibility of trainer for the team for two years. Carly has also played a big part in developing system changes as she has an excellent knowledge of Proclaim and what our client's require.